Unparalleled Property
Maintenance and Repair Solutions
Complete various home upkeep and carpentry tasks with help from Services 321 in Cape Coral, Florida. We provide exemplary handyman services, such as property maintenance, repair, and more. You can trust us for your carpentry needs since we are fully licensed and insured.
We can perform a wide array of home repair, carpentry work, and maintenance tasks. Whether you're planning to build a large and sturdy bookcase or fix some baseboards on your interior wall, we have the woodworking skills to deliver a beautiful finished project.
Dedicated to Delivering Excellent Results
Our team is committed to providing exceptional workmanship on every project we do. From small repair jobs to major home improvement ventures, we have you covered.
Get a Free Estimate for Your Project
No property maintenance and repair job is too big or small for our team. Contact us today for efficient and thorough handyman services. You can also ask for a project estimate.
One of the Best
Kitchen Renovators in Southwest Florida
Achieve your ideal at-home cooking environment through the remodeling solutions of Services 321. From conceptualization to completion, we'll work closely with you to give your kitchen a makeover. We also help commercial clients with their renovation needs.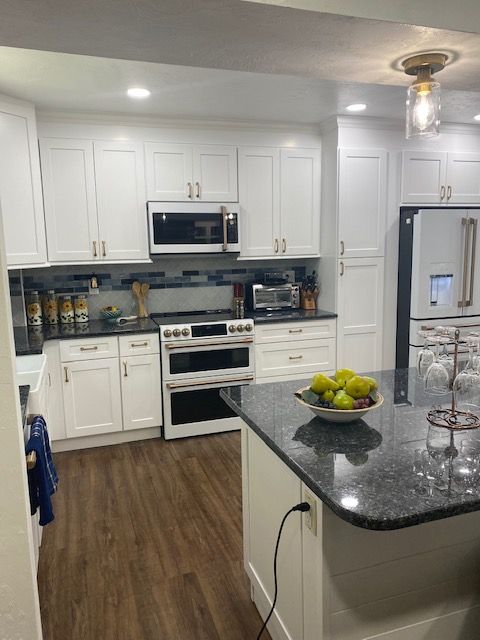 Our kitchen remodeling services include the following:
Creating Custom Designs for Your Kitchen Space
Upgrading Kitchen Counters
Replacing Kitchen Cabinets
Installing New or Existing Kitchen Appliances
Services 321 is a state-certified property remodeling business specializing in kitchen renovations and more.
Exceptional Customer Service
We are committed to ensuring our clients have a pleasant working experience with us. That's why we strive to provide results that exceed their expectations.
Whether you don't want to be bothered during a work day or plan to watch over the entire renovation process, we can work around your desired schedule.
Change up the look and feel of your cooking space. Reach out to us today for some of the finest kitchen remodeling services in South West Florida. We are looking forward to working on your residential or commercial project.
Work With Southern Florida's
Top-Rated Bathroom Renovator
Turn your dream bathroom aesthetic into a reality with the help of Services 321. As a state-certified renovator, we strive to provide quality residential bathroom remodeling services from start to finish. We also work on commercial properties.
Remodeling Services Offered
Room Additions and Expansions
Have more bathrooms built on your property or extend the interior space of your existing one with the aid of our skilled renovators.
Bathtub and Shower Renovations
Remodel your bathtub or shower space to achieve your dream bathing atmosphere.
Fixture and Fitting Upgrades
Improve the look of your bathroom interior by changing its hardware and accessories, including sinks, faucets, flooring, cabinetries, lighting fixtures, and more.
Widening Your Customization Options
Create a bath environment tailored to your preferences. You can choose from a variety of colors, styles, and textures for tiles and other bathroom materials and fixtures.
Start a Bathroom Renovation Project With Us
Reinvent your bathroom space with the help of our experienced renovators. Connect with us today for exemplary property remodeling services in South West Florida. We'll be more than happy to work around your schedule.